Sheri started working with Rocket Mortgage in November of 2021. After months of uneasiness and miscommunication, a change was needed.
A local Realtor suggested that Sheri reach out to Metro Mortgage.
"Metro took the mess that was generated by Rocket Mortgage and got me into a new home," she said. "They managed to take care of me and close in less than three weeks after months of dealing with Rocket."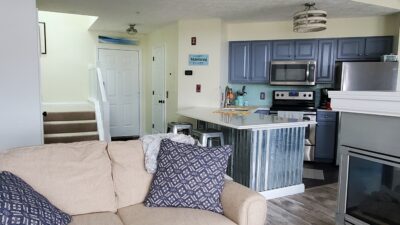 "I'd work with Metro again in a heartbeat."
She was on her fourth Rocket employee (they kept asking for the same information). Just when she thought she was getting somewhere, she'd get a call or email from someone new and would have to start the process all over again.
Instead of starting over with Rocket in early 2022, she called Matt Meyer.
"His availability and responsiveness were so wonderful," Sheri said. "He was always polite and willing to answer my questions."
"He was so easy to work with and kept me involved every step of the way."
Sheri lives in Indianapolis but was born and raised in Manistee. She loves visiting family and exploring all that West Michigan has to offer.
"There's something about having my own place in the town I was born and raised in," she said. "I love being able to visit my family, and the beach, whenever I'd like."
And when she's not in Manistee, she plans to rent out the house to other families looking to explore the great outdoors. It's the best of both worlds.
Thank you for putting your trust in us, Sheri! Welcome (back) to Manistee!