If you're hunting for your dream home in today's competitive market, it's easy to get discouraged. More often than not, you have to view multiple homes, compete with numerous offers, and lose out on a few homes before you find the perfect one.
James Robinson and his family experienced that firsthand.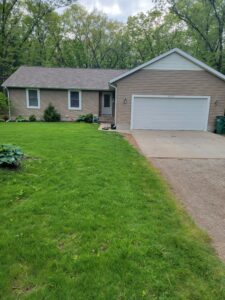 "But as soon as we had an accepted offer, I knew we were golden because we were in the best hands out there for getting our loan financed," James said. "We ran into a couple bumps in the road with underwriting working towards our clear to close, but the entire team remained upbeat and positive ensuring us we would get everything figured out."
"Our happiest moment was obviously the closing on the sale of our starter home and the purchase of our dream home and I'm glad that Metro Mortgage was able to be there and share that moment with us."
The same was true when James and his family worked with Metro Mortgage for the first time in 2018.
"The team was amazing both times we've used them to purchase a home," James said. "Always highly responsive, even during times that aren't your typical office hours."
"Their willingness and ability to think outside of the box to overcome obstacles and make our dreams come true were beyond appreciated."
Their new home is their forever home. We wish them many years of happy memories!
"We don't plan on buying another home until after retirement and it's time to downsize, but when that time comes, I know I'll be returning again for my third time," James said.
"In the meantime, I'll make sure to recommend Metro Mortgage to everyone I know looking to purchase and home because they actually care about their customers, you'll never feel like you're just another loan toward a quota."