The COVID-19 Pandemic changed the way we live, work and play. For Renee Malburg, it brought life to a space we didn't know we needed in our small town.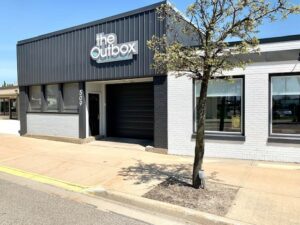 "The Outbox was a direct outcome of the changes that occurred in the workplace during COVID restrictions," Renee said. "Several of our children found themselves working remotely during the shutdowns and restrictions in 2020 and 2021. As travel restrictions ebbed, they started to visit us in Ludington. Because they were working remotely, they could work during the day and enjoy our beautiful summer gatherings in the evenings and weekends."
"We had terrible Internet at our home south of town," she continued. "I set them up a temporary office in the building that my husband Michael and I own next to my Five Star Real Estate office. We installed high speed Internet, put some desks and chairs in there and whenever the kids were in town, they would go there to work. They all loved the space, they were able to do concentrated work and still be close to everything downtown, walked to restaurants for lunch. At the end of the second summer in the fall of 2021, I decided to outfit it properly and have the kids try out the space over the Thanksgiving holiday when they were all going to be in town."
"Remote work at the Outbox was a hit! I spent the next few months adding the finishing touches that the kids helped me to sort out, developed the website and launched in January this year."
Her tagline says it best: Out of town and in business.
"I love downtown Ludington," Renee said. "I grew up here and now, as an adult being able to work and provide opportunities for other people to work here is a wonderful thing. My hope is that by offering a place for people to work, they will also enjoy the vibrant downtown that has developed in the past 15 years."
"What I really focused on was developing a comfortable space, providing some nice amenities – check out my website and you'll see what I mean! I want to be a part of the fabric of Downtown Ludington and collaborate with other downtown businesses to provide a welcoming space for residents and visitors alike," she said.
What's next? Be on the lookout for an expansion. Renee hopes to enhance the current space, create private offices, build a large conference room for training events and brainstorming sessions, and have casual drop-in space for anyone that needs it.
If you're in Ludington and need a quiet space to work, stop by The Outbox and check it out! You don't be disappointed.