In a few short months, Red Rooster Coffee & Community will celebrate their 5th Anniversary in Ludington. It's been an incredible ride!
"We wanted to have a 'footprint' in our community," said Managers Ethan and Melissa Ambrose. "We love Ludington and wanted a place where people could gather, laugh, study, hold a business meeting and go on a date. A coffee shop with intention seemed like perfect fit."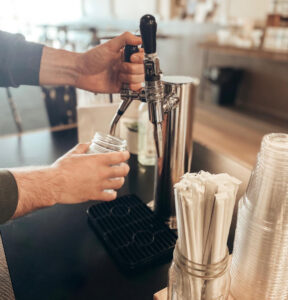 At the Red Rooster, the coffee beans are organic and fair trade. Their syrups are house-made and many of their pastries are purchased from a local, organic bakery.
It's an amazing environment and so much more.
"We serve coffee with the purpose of getting to know and care for each person that enters the Red Rooster," Melissa said. "We know most of our customers by name and have so many cool stories of people in our community sharing life with us!"
As their name states, the Red Rooster focuses on coffee AND community.
"This is the great part of being a small business owner in the community where you live," Ethan said. "We have the opportunity to serve in Ludington, too. We get involved in many of the great downtown events, from our annual Chili Walk to each fall's Cookie Walk."
"We also love to 'dig in' on community events by contributing to the planting of flowers, painting lamp posts, setting up the downtown ice rink, and more," Melissa continued. "One of our favorite events includes Women's Night where we pamper the ladies in the community with not only coffee drinks, but great encouragement, giveaways, lots of fun conversation, and more."
Ethan and Melissa love their community, its beauty, the amazing people that live there, and the opportunity to own a business in Ludington!
Fast Facts about Red Rooster
They partner with Higher Grounds in Traverse City.
Their most popular drinks are Lattes with their house-made syrup.
People love their Cold Brew & Nitro in the summer months.
A fan-favorite for kids is their fruit smoothies.
If you're in Ludington and have a few minutes to spare, stop by the Red Rooster. You'll find great coffee and even better conversation!