2018 was a big year for Jamie Catlett – one she will never forget!
Days before the deadline, Jamie entered a small business competition in Manistee thanks to local Realtor Gini Pelton. Think Shark Tank, but local. It was an extensive process. She worked with processionals in the community to formulate a business plan for her barbershop and participated in a competition to share her idea.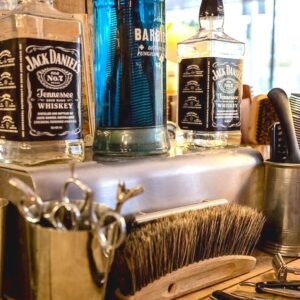 "I was living and working Traverse City, but my mom lived in Manistee," Jamie said. "Gini knew I wanted to be closer to her, so she encouraged me to enter the competition. It was perfect timing!"
She won! She received a grant from the Manistee Downtown Development Authority and Catlett & Company opened in November.
But why a Barbershop?
"There's always been a barber in small towns," Jamie said. "It's a place for men to get cleaned up and feel good about themselves; a place for men to get ready for big occasions and holidays in their lives."
"Before they get married or have a baby, they come in and sit in my chair. Being a Barber allows me to get to know people in the community and be involved in the big moments in their lives."
Jamie was recruited by a Baber Shop while in cosmetology school. She was talented – she made a name for herself in the industry. Opening her own shop was a natural progression.
Catlett & Company offers a wide variety of services: classic cuts, beard and mustache trims, facials specifically formulated for men, grey blending, eyebrow waxing and more.
For Jamie, it's so much more.
She enjoys the small-town quaintness in Manistee is proud to be involved and contribute to this community. She's an artist and a sculpture and uses her creative endeavors to connect with people and give back.
This year, she's helping her community put Sunscreen Dispensaries at our local beaches. She's donating supplies and raising money for the cause. If you'd like to get involved, stop by J. Catlett & Company and chat with Jamie or donate directly to the City of Manistee (with Sunscreen Dispensaries in the memo).
Thanks for all that you do, Jamie! J. Catlett and Company has been a wonderful addition to Manistee!